A Vehicle for Spreading Love

We're excited to partner with #HashtagLunchbag, a non-profit organization dedicated to spreading love to the homeless, one lunch bag at a time by donating a fleet of our City e-bikes, complete with custom cargo trailers, to help efficiently transport bagged lunches to homeless and underserved communities in #HashtagLunchbag's Los Angeles and NYC chapters.
With social distancing protocols in 2020, many #HashtagLunchbag chapters were forced to stop hosting events, and the organization's ability to feed and feel love was limited to store-bought meals for select partners. Additionally, traditional means of delivery were compromised, making it harder to efficiently get the meals to those in need.
As the world opens back up, we're faced with reimagining our events and reprioritizing in a way that incorporates learnings from the last 18 months. 
Community and connection top the list for us. These Charge bikes give us the opportunity to expand our immediate distribution radius while still being eco-conscious.

– Ajay Relan, co-founder of #HashtagLunchbag.
Charge's mission is to make lives easier, so we are thrilled to offer a safe, easy-to-use, and environmentally-friendly means of distribution to help reignite the #HashtagLunchbag movement. Charge's headquarters are right outside of New York City, so we have seen how the pandemic affected major cities and we are looking forward to giving back to the community. Additionally, Charge plans to encourage its riders to organize #HashtagLunchbag events in their communities, utilizing their e-bikes as a vehicle to distribute meals.

– Molly Harrington, Marketing Director for Charge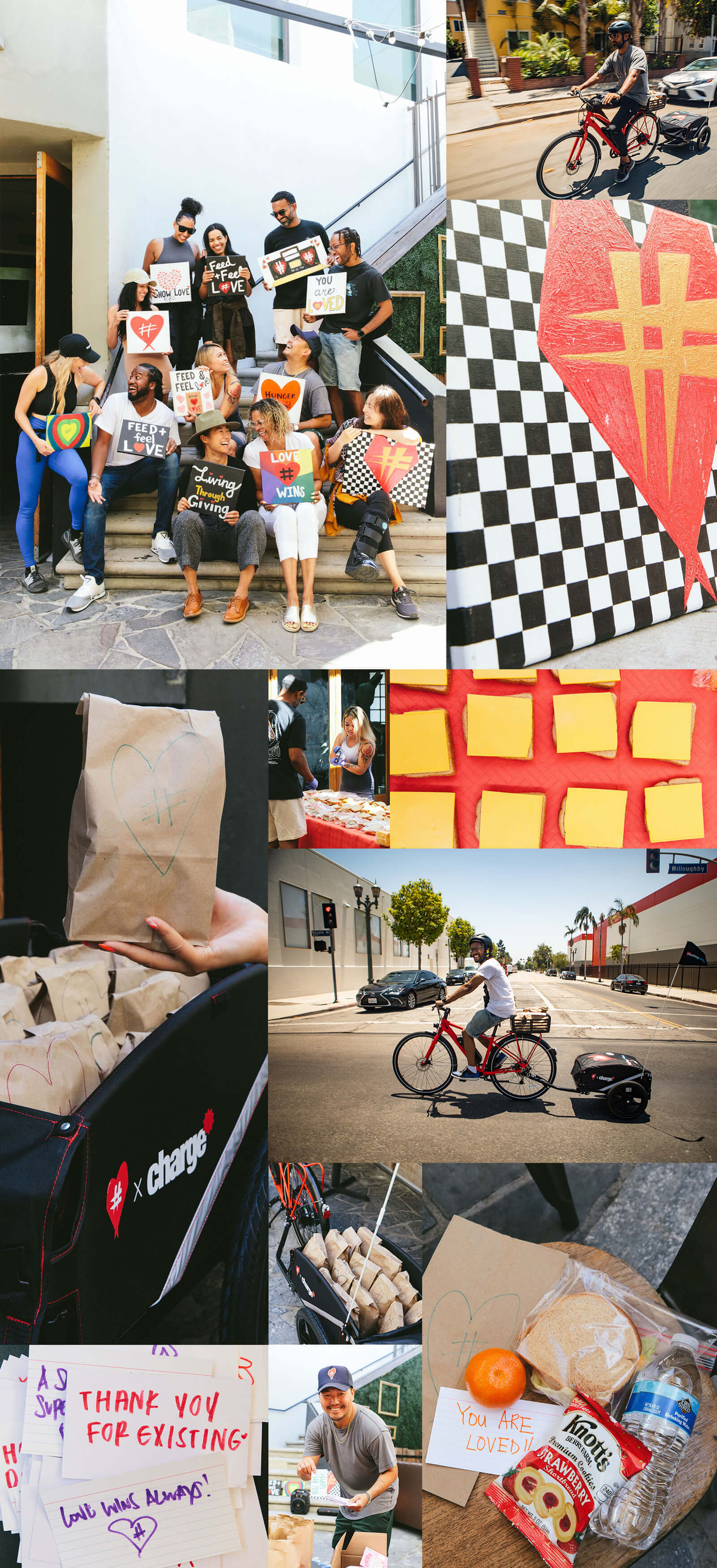 #HashtagLunchbag's goal is to spread the joy and fulfillment that comes with giving back. By using bagged lunches (complete with handwritten notes) as a vessel for love, the Los Angeles-based organization has grown to over 150 cities and nine countries in the last eight years.
Find an Event or Donate to #HashtagLunchbag
All photography by Jennifer Johnson - @jenjphoto